About Us
Company Profile
We started in 1987. Since its inception S. Kumar Computers Private Limited (SKCPL), an ISO 9001:2000 Company has earned its reputation as a leading hardware and systems integration organization that focuses on rapid results for its clients. This reputation is the culmination of over 1000 successful projects with more than 500 clients covering all the 26 districts of the states.
SKCPL's process and technology expertise enables us to deliver measurable business benefits to our clients so that they can achieve the greatest benefits from their strategic investments in technology.
We provide a full suite of offerings, which encompass all phases of a project lifecycle. The breadth of our products include Dell, IBM and Lenovo. We are regional distributors for Digisol and Schneider (Digilink/APC/APW/Switching Etc..) products and are also involved in end-to-end networking projects right from network survey/planning to design to implementation and support/maintenance. Our offerings range from strategy, assessment and planning activities, continue to include all key elements of implementation and integration, and end with extended support. We also provide solutions for unique industry processes/challenges.
On one hand, SKC develops IT solutions, which are customized for each client's specific needs, while on the other, we have superior technical expertise, wherein our focus is always on achieving rapid business benefits for our clients.
The company acquired ISO 9001: 2000 Certification in May 2002 and has been getting the same renewal from time to time. We've been system integrators for Govt. of Gujarat and have been involved in many of their projects of E-Governance carried across the state. We are also registered with Small Scale Industry and have the required certification.
Backed by a strong support infrastructure and FOUR offices across the state, today, SKC continues to be a leading systems integration and solutions provider Organization.
We are also manufacturers and suppliers of Gift Articles under the Brand Wonder World and are engaged in supplying our products to numerous large corporate houses across the country.
Business Profile (In Brief)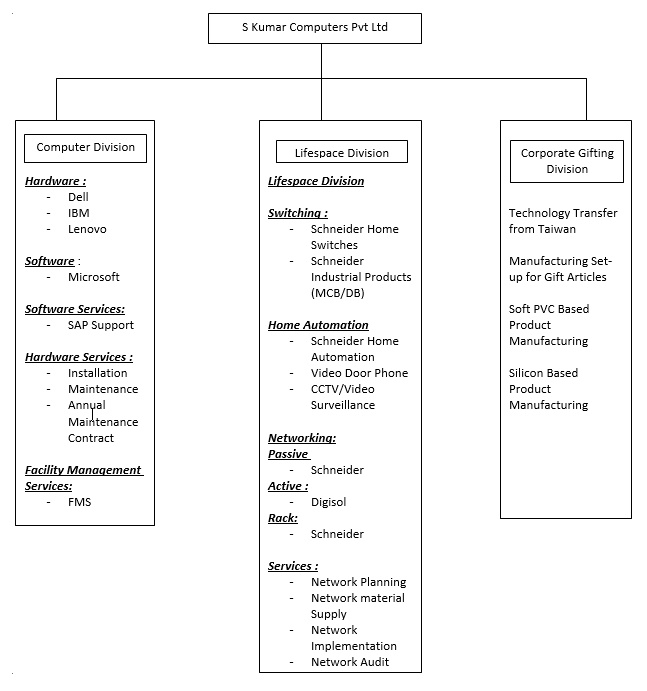 Business Profile (In Detail)
Computer Division :
Hardware : We are an Authorised Partner for Dell, IBM and Lenovo and are engaged in marketing of all products of these equipment manufacturers – right from Client/End Computing devices like Desktops, Laptops, workstations etc. to Enterprise Products like Servers and Data Storage Systems.
Software : We are an Authorised Microsoft Software Products re-seller.
Software Services : We are engaged in providing SAP Support to few SAP Client/s.
Hardware Services : We provide following services related to IT Hardware Equipments :
Installation Services
Maintenance Support Services
Annual Maintenance Support Services - Both Comprehensive as well as Non-Comprehensive
Facility Management Services : We offer Facility Management Services to our clients wherein we undertake maintenance/management of entire IT hardware. This service is tailor-made to meet the customer requirement because we feel that our customer should be focusing in his/their line of business and should leave the IT management/maintenance task to us.
LifeSpace Division :
We are Premium Partner of Schneider for their Life Space Range of Products and Solutions. Schneider Electric Offers a One-Stop experience to protect your home from electrical shocks, fire risks and intrusions, which help you sustain your comfort and décor and at the same time helps you manage rising utility bills in a better way. The range includes switches, socket outlets, a large range of allied products, data and communication products for commercial, hotel & industrial applications. Miniature Circuit breaker gives reliable protection against overload & short circuit in AC circuit and for limited DC applications Nothing is more important than safety and security of the family. Security not only lies with the theft but also includes safety alarming system on emergency cases such as fire and smoke detection, video surveillance, burglary actions, sound detection, auto-dialing, etc.
Gifting Division :
We conceptualize, design, develop and manufacture a creative range of Soft PVC and Silicon based Gift Articles. We have a Design and R&D team that is churning out a whole range of new ideas, styles and products on a regular basis. We have a modern manufacturing plant built up on a 20000 Square Feet area in a 55000 Square Feet Plot and have a workforce of 200 skilled people who ensure highest quality, ultra-fine workmanship in an agreed time frame. We also have an in-house Tool room with latest CNC Controlled Mould making machines to ensure high quality finish. We are also a Member of Corporate Gift Association of India (CGAI). We manufacture Food Grade Non-Toxic Products.
HUMAN RESOURCES & KEY PERSONS TO ACHIEVE SUCCESS:
The Company believes in investing in Quality Human resources, which is the key to success in the Knowledge based industry. Following are the Key people:
| | | | |
| --- | --- | --- | --- |
| Name | Designation | Qualification | Industry Experience |
| Mr. Nimish Hansoti | Managing Director | M.Sc. | 40 Years |
| Mrs. Nita Hansoti | Director | B.Sc. | 17 Years |
| Ms. Bhumika Hansoti | Director | M.S. (Comp. Science) | 7 Years |
| Mr. Narendra Patel | Director | B.E. | 26 Years |
| Mr. Kanti Prajapati | Director | B.E. | 22 Years |
| Mr. Samir Kadia | Service Manager | B.C.A. | 15 Years |
SUPPORT INFRASTRUCTURE:
We have 4 offices across the State at Ahmedabad, Baroda & Surat, This helps in providing support effectively to customers across the State.
Our Support Team comprises of over 22 qualified people and 6 Residential Support Engineers with expertise on diverse HW & and Networking Technologies.
We have been providing more than 95% Uptime on Computers and peripherals, and more than 98% uptime on Structured Cabling Networks
Over the period of more than 21 years that we have been in business, the support team has gained experience and expertise in executing large LAN & WAN implementation projects in a time bound manner.
KEY STRENGTHS:
Strong Finance Management Skills.
Expertise on Hardware & Networking Technologies
Experience in Handling Large Systems Integration Projects.
Proven Project Management Capabilities
Aggressive Marketing Capabilities
Strong Account Management Skills, resulting in High value sales generation from Corporate and Institutional customers.
OUR HISTORY
 
Founded in December 1986 by Mr. Nimish Hansoti (Chairman & MD), S. Kumar Computers Pvt. Ltd. achieved early success in the development of client/server solutions for many large, prestigious companies.
 

KEY TO SUCCESS
 
The Company believes in investing in Quality Human resources, which is the key to success in the Knowledge based IT industry. Following are the Key people:
 

INFRASTRUCTURE
 
S. Kumar Computers Pvt. Ltd. has four offices across the State at Ahmedabad, Baroda, Surat & Rajkot, which helps in providing support effectively to customers across the State.
 

 
 
 

ACHIEVEMENTS
 
The company based on its outstanding performance has been presented with the following awards by Wipro Infotech / IBM.
 

KEY STRENGTHS
 
Strong Finance Management skills.
 

CUSTOMER
 
MAJOR CUSTOMER LIST
 

 
 
 

ISO Certification
 
S. Kumar Computers Pvt. Ltd is an ISO 9001-2008 certified company.